Emergency Services are Working Hard in this Horrible time for GAZA.
All my energy and positives toughs in this difficult time for YOU ALL
Paramedics In Gaza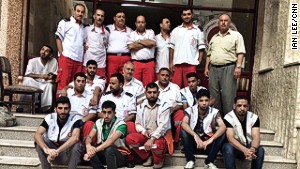 Paramedic Alaa Abu Sheir has a shrapnel wound to the arm. But that's not the one that cuts the deepest.

When we find him, he's washing the blood off a stretcher in his ambulance.

That's the blood of 24-year-old Mohamed Hamdan, who was reciting the Quran when a missile from an Israeli drone struck him Monday.

Abu Sheir and his colleagues scraped together the unconscious and broken Hamdan. He tells CNN how he and his colleagues struggled to plug the holes in the man's body with gauze to stop him from bleeding to death — all while the ambulance races toward Gaza's main hospital, Shifa.

 
Ambulance workers brave Gaza dangers (SLIDESHOW via Al Jazeera)
Ambulance drivers in Gaza have been working non-stop in extremely difficult conditions throughout the Israeli military offensive. According to the
View original post 174 more words